NMN
Nicotinamide mononucleotide
High Quality Stabilized Nicotinamide Mononucleotide (NMN) 99.9% Pure in Enteric Vegetarian Gastric Acid Resistant Capsules.
---
Discount code 10%
Now 10% extra discount with discount code: NMN10
You can enter this code on the first page at checkout. After filling in, press the + behind it to apply the discount.
---
5 important notes before using NMN:
Stomach acid has a negative effect on NMN. Use (our) Enteric vegetarian gastric acid-resistant capsule. Unfortunately, liposomal NMN, sublingual NMN, NMN powder or other capsules do not protect against stomach acid.

Use at least a purity of 99%, with us you even buy 99.9%
Use stabilized NMN, otherwise the NMN will be short-lived and unstable
Use NMN in gastric acid-resistant capsules, stomach acid negatively affects NMN

Does the webshop have an independent webshop quality mark, where customers can give reviews?

---
Vegetarian gastric capsules capsules
Stomach acid negatively affects NMN. NMN can be broken down into other components by stomach acid. It loses its original effect. Vegetarian stomach acid resistant capsules (Enteric capsules), are a good solution to prevent this. With these capsules, the NMN is only released after the stomach.
---
NMN with Resveratrol
Professor David Sinclair (working at Harvard Medical School USA) is an promoter of a combination of NMN and Trans Resveratrol. He describes Trans Resveratrol 99% as a throttle for NMN. David Sinclair's dosage is 50/50. We therefore also offer these in a mix of NMN with Trans Resveratrol 50/50.
---
TMG?
NMN needs methyl groups to form NAD+. These methyl groups are found in foods such as broccoli, spinach, wheat and beans. TMG is recommended with high doses of NMN, to prevent deficiencies of methyl groups in the body. TMG / Trimethylglycine (Betaine Anhydrous) has three methyl groups that can be donated to NMN, preventing too much methyl groups from being withdrawn from the body.
---
Purity Certificate
Our stabilized NMN has been tested to a purity of 99.9%. Determined by an independent Dutch laboratory, called XpertLab.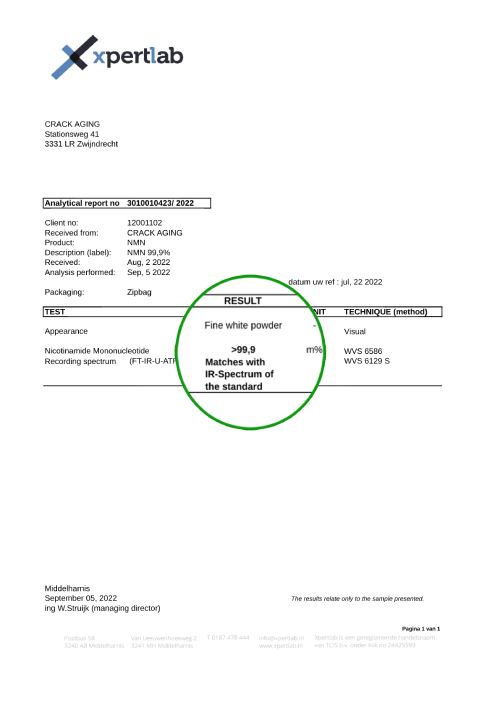 ---
Orders above € 75, - free shipping.
A varied, balanced diet and a healthy lifestyle are important. Food supplements are not a substitute for a varied diet.
​